So much for blogging everyday! Ha! I try but for some reason when I go to work I tend to forget about my blog and it's probably because I feel I should spend time with Chris and Logan since I spend 12 hours at work...Everything technological gets neglected, I'm surprise I remember the mail!
Anywho, I do have to post my pics of the week, because I did think of them and took pics as I went this week!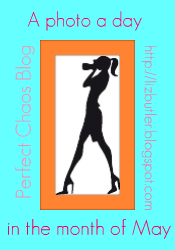 Pic #10 (Tuesday)
It was a warm day so I blew up his turtle pool and let him cool down!
Pic #11 (Wednesday)
I'm almost done with my scrapbook closet! Next step is organizing this overflowing box of pictures! Oh, the insanity!!

Pic #12 (Thursday)
A little shopping for the new baby! Thanks for the Babies R Us tip Liz! It was a combined store but much bigger than the one closer to us!
Pic #13 (Friday)
Logan's binky stashed away in my night drawer! I was heartbroken but we bit the bullet and started the weaning process. The first night without it was horrible, the second night was an improvement, maybe tonight will be an even bigger improvement!
Pic# 14 (Saturday)
Chris prepped this whole area for a garden he's excited to plant!
Pic# 15 (Today!)
We went out and bought all kinds of yummy veggies for Chris' garden and I treated myself to these lovely Gerbera Daisies! Now I just need to buy a planter! =)

This upcoming week is gonna be a little crazy too. I need a break! ♥